A solid resume can be your golden ticket to the dream job you've always wanted, but many job seekers today aren't sure where to start with theirs — especially if they've been out of the market for some time. Fortunately, it's not too difficult to craft an effective resume that highlights your accomplishments, skills and experience. But before we dive into how you can do that, it's important to cover what you should and shouldn't include in your resume.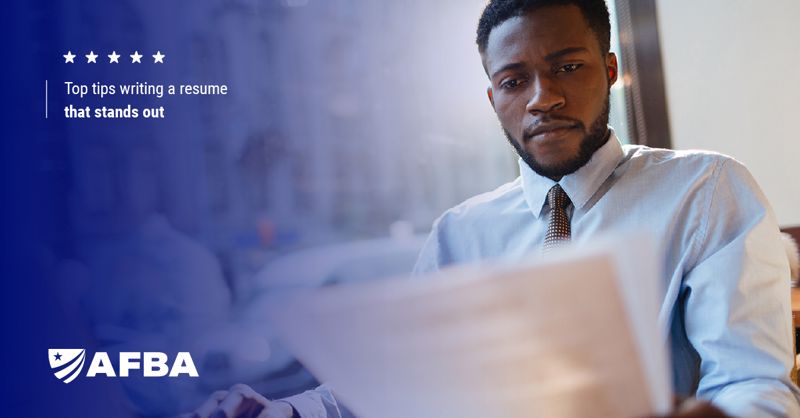 What should you include in your resume?
When you think of what to put down in your resume, you likely think of your work experience, skillsets and specific achievements in your career so far. While these are all important, you don't have to include everything.
To understand what should and shouldn't go in your resume, it's easier to highlight a few things that are better left out, such as:
Personal information, like an address or date of birth.
High school details (unless you're a recent graduate).
References (including the redundant phrase, "References available upon request").
Irrelevant or outdated work experience.
Not only do these take up valuable real estate, but some can even work against you, showing a lack of (or unrelated) experience.
Top 5 tips to land the job
Without further ado, here are our top five tips for creating the perfect resume:
1. Look for keywords in the posting
Whenever you see a job posting that intrigues you, be sure to study the language it uses carefully. Within each description are specific keywords that employers and, more often than not, hiring software use to recognize an ideal candidate. Using these keywords in your resume is essential to ensure you pass the initial applicant screening.
2. Review examples in the industry
It's also a good idea to look at other resume examples from the same industry and, ideally, the same position. While you might not always know someone in your network who got the job, there are plenty of samples online demonstrating what a high-quality resume looks like. As you review them, you'll start to notice a few trends; namely, the resumes that get results keep things short and simple, using concrete numbers to highlight measurable value.
3. Use strong, active language
Now it's time to turn attention to the language on your own resume. Try to use active voice and keep your wording as concise as possible. The hiring manager won't want to read a novel when the next applicant in the pile has neatly organized bullet points. In addition, you should also lean into your accomplishments and use strong words like "achieved" or "earned" whenever possible.
4. Proofread!
This step might seem obvious, but it's essential nonetheless. You should proofread your resume as many times as it takes to feel confident there are no errors. Then you should ask another industry professional, trusted friend or family member to look it over and provide feedback. It's okay for your resume to go through multiple rounds of revisions. The idea is to boil it down to your essential skills, experience and accomplishments so employers can easily see the value you'd add to their team at a glance.
5. Draft different versions
Finally, don't be afraid to draft multiple copies of your resume. While it's good to have a baseline resume that you can use as a template to jump off from, it's always best to tailor your resume to each unique job position to which you apply. This is especially useful for applying to different industries or positions within one. Just be sure not to mix them up as you're applying.
Discover more resume-building resources
If you're looking for more resources to help craft a strong resume, visit the AFBA career center and browse our packages.