Social media is about more than sharing memes and catching up with friends and family — it's become an invaluable tool for job seekers and recruiters alike. Whether you're new to these platforms or you're a digital native who grew up with them, knowing how to effectively craft your profile can have significant impacts on your job searching journey.
But why is social media important to employers in the first place?
Why Is Social Media Important in a Job Search?
Each social media profile is a collection of posts, images and videos the individual shared to express themselves. For employers, this offers a quick and easy way to gain insight into who their prospective candidates are.
As a job seeker, your active presence on platforms like Instagram and Facebook, as well as more professional ones like LinkedIn, is your first impression with recruiters. In fact, a staggering 84% of organizations use social media to recruit new talent, according to Zippia. How exactly?
How Employers Use Social Media
You've likely heard of the term "social media screening" when it comes to the application process — but what does that really mean? While standards and procedures vary by employer, a social media screening typically involves hiring managers scanning through your social media profiles before making a hiring decision or even setting up an interview.
During this process, they're likely checking your accounts across the three main platforms: LinkedIn, Facebook and X. Any questionable posts that showcase extreme viewpoints, dangerous or obscene behavior or other unprofessional activities are likely going to raise some eyebrows at the very least, if not squander your chances at a position.
So how do you use social media to your advantage and prevent any potential misgivings?
Top 5 Tips To Secure a Job With Social Media
Here are 5 tips to help you leverage social media in your job search:
1. Keep Your Profile Clean and Professional
Instead of scrubbing your profile from the internet, try scrubbing it clean of any "offensive" content that could dissuade potential employers. In addition to deleting or hiding old posts, you should also consider what you share moving forward to ensure you're seen in a positive light.
2. Update Your Skills and Experience
As you go through your social media profiles, be sure to update your skills and experience. This is essential for professional networking platforms like LinkedIn, as they act as a digital resume or portfolio. Any time you gain a new certification or learn a new skill, be sure to include it in your bio or "About You" section.
3. Start Networking and Making Connections
One of the best ways to use social media in job searching is as it's intended: as a networking tool. Build as many connections as possible across different platforms, because you never know when or where the next opportunity could arise.
4. Research and Follow Potential Companies
Just like employers, you should also be using social media to find out more about the companies you apply to. Not only will engaging with their posts show interest, but reading their blogs and viewing their content can help you gain a better understanding of the company itself.
5. Send Personalized Messages
Finally, when you're ready to pull the trigger and apply to a position, don't be afraid to send a personalized message to the hiring manager or anyone else you may know on the hiring team. While you don't want to come across as pushy or overbearing, a well-written note can go a long way in keeping your name top-of-mind for employers.
A solid resume can be your golden ticket to the dream job you've always wanted, but many job seekers today aren't sure where to start with theirs — especially if they've been out of the market for some time. Fortunately, it's not too difficult to craft an effective resume that highlights your accomplishments, skills and experience. But before we dive into how you can do that, it's important to cover what you should and shouldn't include in your resume.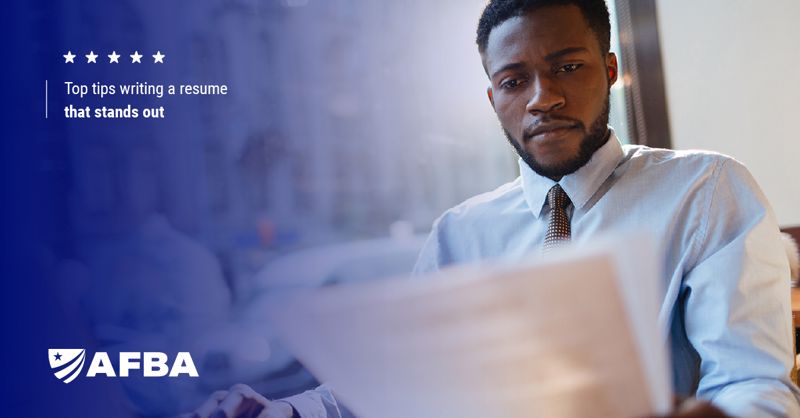 What should you include in your resume?
When you think of what to put down in your resume, you likely think of your work experience, skillsets and specific achievements in your career so far. While these are all important, you don't have to include everything.
To understand what should and shouldn't go in your resume, it's easier to highlight a few things that are better left out, such as:
Personal information, like an address or date of birth.
High school details (unless you're a recent graduate).
References (including the redundant phrase, "References available upon request").
Irrelevant or outdated work experience.
Not only do these take up valuable real estate, but some can even work against you, showing a lack of (or unrelated) experience.
Top 5 tips to land the job
Without further ado, here are our top five tips for creating the perfect resume:
1. Look for keywords in the posting
Whenever you see a job posting that intrigues you, be sure to study the language it uses carefully. Within each description are specific keywords that employers and, more often than not, hiring software use to recognize an ideal candidate. Using these keywords in your resume is essential to ensure you pass the initial applicant screening.
2. Review examples in the industry
It's also a good idea to look at other resume examples from the same industry and, ideally, the same position. While you might not always know someone in your network who got the job, there are plenty of samples online demonstrating what a high-quality resume looks like. As you review them, you'll start to notice a few trends; namely, the resumes that get results keep things short and simple, using concrete numbers to highlight measurable value.
3. Use strong, active language
Now it's time to turn attention to the language on your own resume. Try to use active voice and keep your wording as concise as possible. The hiring manager won't want to read a novel when the next applicant in the pile has neatly organized bullet points. In addition, you should also lean into your accomplishments and use strong words like "achieved" or "earned" whenever possible.
4. Proofread!
This step might seem obvious, but it's essential nonetheless. You should proofread your resume as many times as it takes to feel confident there are no errors. Then you should ask another industry professional, trusted friend or family member to look it over and provide feedback. It's okay for your resume to go through multiple rounds of revisions. The idea is to boil it down to your essential skills, experience and accomplishments so employers can easily see the value you'd add to their team at a glance.
5. Draft different versions
Finally, don't be afraid to draft multiple copies of your resume. While it's good to have a baseline resume that you can use as a template to jump off from, it's always best to tailor your resume to each unique job position to which you apply. This is especially useful for applying to different industries or positions within one. Just be sure not to mix them up as you're applying.
Discover more resume-building resources
If you're looking for more resources to help craft a strong resume, visit the AFBA career center and browse our packages.
As Veterans Day fast approaches, it's important to take the time and reflect on the significance of this observance to honor the brave servicemembers who've answered the call of duty. Let's take a closer look at the history of this federal holiday before diving into some ways you can participate.
From Armistice to Veterans Day
The first Veterans Day was celebrated on November 11, 1919 — however, the holiday didn't always go by that name. Following the end of the first World War, President Wilson commemorated the 11th day of the 11th month as Armistice Day; but it wasn't until 1926 that the United States Congress officially recognized the holiday.
After World War II, President Eisenhower issued the first Veterans Day Proclamation, both renaming the observance and shifting its focus to honor all of our nation's veterans.
How To Observe Veterans Day and Honor Our Nation's Heroes
Whether you have a servicemember in your life or you're looking for more ways to show your gratitude this Veterans Day, here are a few ideas to honor our veterans:
1. Take a Moment of Silence
Each year on Veterans Day, there are two minutes set aside for a moment of silence to honor those who have served and their family members at 2:11 PM EST.
2. Extend Your Gratitude
If you know a veteran or meet one, don't forget to thank them for their service. Even this simple expression of appreciation can have a huge impact.
3. Send a Letter or Care Package
Consider sending a personal letter and care package to our servicemembers. Who doesn't appreciate a nice note and fun treats every once in a while, especially while you're away from home?
4. Assist a Veteran You Know
If you have a veteran in your life, be sure to check in with them and see if there's anything you can help them with.
5. Support Military Families in Need
Even if you don't know a military family personally, there are plenty of organizations, like Soldiers' Angels, that allow you to lend a helping hand to families in need.
6. Help Unhoused Vets
Nobody deserves to live on the streets, but especially those who have served our country. Contributing your time or money to organizations like U.S. Vets can go a long way in helping unhoused veterans get back on their feet with a roof over their heads.
7. Make a Donation
If you're feeling generous, consider making a donation to any number of veteran organizations. For example, Disabled American Veterans (DAV) is a great nonprofit offering life-changing support to our nation's heroes.
8. Volunteer Your Time
In addition to U.S. Vets and DAV, there are countless other nonprofits and charities that are in need of helping hands. Volunteering your time at these organizations can be a great way to give back and serve those who have already served.
9. Support Veteran-Owned Businesses
Beyond helping veterans through charity organizations, you can also lend your support to businesses owned by servicemembers. Whether it's a local store or a national brand, providing this economic support is crucial to keep these businesses thriving.
10. Visit a Veteran Memorial
Finally, you can pay your respects to the brave servicemembers who gave the ultimate sacrifice by visiting a local or national veterans' memorial. Feel free to leave a small token of your respect in a fountain or on a gravestone, and consider donating if the memorial has the option.
While our list stops there, that doesn't mean yours should! Don't be afraid to get involved with your local community and find out more ways you can help give back to our nation's heroes.
While we should be thanking our firefighters, police, paramedics and EMTs every day, October 28 is National First Responders Day, which offers a unique opportunity to show our appreciation. These heroic men and women are the first ones on the scene, no matter the incident, whether it's an accident, tragedy or natural disaster. They devote their lives to making the world a better — and safer — place.
The creation of National First Responders Day
The day of recognition is a relatively new holiday, but it was a long time coming. Congress made October 28 National First Responders Day in 2017, though the first bipartisan resolution passed through the Senate in 2019.
At the time, there were about "4.6 million career and volunteer firefighters, police, emergency medical technicians, and paramedics serving communities all across the United States," according to the Department of Homeland Security. Even before the creation of National First Responders Day, Americans knew how valuable and necessary they were.
First Responders: The heroes of the pandemic
Only a few months after the first recognition of National First Responder Day, the COVID-19 pandemic would sweep the globe. First responders were the ones who stepped forward when no one else could.
Often first on the scene, emergency responders are exposed to unique and stressful situations that increase their likelihood of contraction. According to The Associated Press, many first responders have lost their lives as a result of COVID-19. And while the height of the pandemic is behind us, it's still just as crucial to support these brave front-line workers.
Continuing to Champion Public Safety
Outside of the pandemic, natural disasters caused destruction across the U.S. in the last few years, requiring firefighters, EMT providers and other first responders to show up in unprecedented force.
According to the U.S. Drought Monitor, nearly 60% of the topsoil and subsoil in the U.S. is experiencing moderate to severe drought. This has led to a staggering increase in wildfires. The National Interagency Fire Center reports that over 22 million acres of land were burned between 2020 and 2023. Firefighters from around the nation risked their lives and left their families to protect the environment and American citizens.
Beyond the pervasive fires, the U.S. has faced an increase in floods, droughts, hurricanes, blizzards, earthquakes and other natural disasters. The National Oceanic and Atmospheric Administration's data shows that there have been 23 weather disasters in 2023, as of September 25, with the number steadily rising since the 1980s.
Supporting Our First Responders Act
During the pandemic, it quickly became clear that the additional burdens placed on first responders were causing strain on the system. As a result, the same emergency situation could receive vastly different responses depending on where you live.
To combat these issues and provide greater support to critical responders, Representatives Andy Kim (D-NJ) and Mike Carey (R-OH) have proposed the bipartisan Supporting Our First Responders Act.
This Act would authorize $50 million each year for the next 5 years for the new Department of Health and Human Services grant program. The aim of this program is to help both EMS providers and the personnel on the ground with:
Recruitment and retention
Mental health care
Training reimbursements
Facility upgrades
And more
While the bill hasn't passed yet, it would undoubtedly help ease the stress put on EMS providers from the start of the pandemic.
Commemorating National First Responder Day
When National First Responders Day was announced, Chairman of the Homeland Security and Governmental Affairs Committee Ron Johnson (R-Wis.) explained the reason for the new day of recognition.
"Our first responders save countless lives every day, and many tragically pay the ultimate price in the line of duty — a sacrifice we should never forget. Designating a day to honor their service and sacrifice is the least we can do to express our gratitude," he said in a June 7, 2019 press release.
The 116th Congress wrote in the act that "During times of national crisis, first responders have consistently been a source of aid, hope, and comfort for all Americans."
Show your support for America's brave first responders by thanking them for their service or donating to a first responder charity. Here are a few to choose from:
National First Responders Day is your opportunity to show gratitude and recognize the professionals who play an important role in ensuring the safety of every American citizen.
October 26th marks National Day of the Deployed — an observance created by the organization Soldier's Angels to honor the heroic men and women currently deployed. In other words, it's a day to say "Thank you" for all the sacrifices our active duty servicemembers and their families make in the name of our country.
Of course, this gratitude can extend beyond words to actions, such as sending a care package or volunteering to help out veterans and military families. But before we dive into ways you can support our deployed soldiers, let's first understand why we celebrate the Day of the Deployed.
The history behind the Day of the Deployed
First celebrated in 2006 — when the group Soldiers' Angels approached then-Governor of North Dakota, John Hoeven, to proclaim the day as a time to honor active-duty servicemembers — the Day of the Deployed is a relatively new holiday. However, this was only the start, as, by 2010, the movement to recognize October 26th as the Day of the Deployed had grown to 40 states.
In 2011, Hoeven, who was then a Senator, sponsored a unanimously agreed-upon resolution to designate October 26 as an official national holiday, which is now observed by all 50 states.
But how can you participate in the Day of the Deployed?
Observing the Day of the Deployed
When our troops are deployed, they must leave behind their families, their homes, and almost everything that's familiar to them in service to their country. These significant sacrifices warrant recognition.
Here are a few ways you can give back to those who are currently deployed and their families:
1. Write a letter
One simple way to brighten a soldier's day is to send a thoughtful letter. Even if you don't know them personally, writing a letter to a stranger is sure to lift their spirits, especially when they may be missing home. This small and easy gesture goes a long way in showing your support and spreading love.
2. Send a care package
Speaking of spreading love, nothing shows you care more than a care package — after all, it's in the name! Whether it's clothes, toiletries, snacks or other treats, sending a package of goodies is a surefire way to put a smile on someone's face. Opening up a box of brand-new products from back home is a huge boost to morale, especially when soldiers are deployed overseas in unfamiliar countries.
3. Help a military family
If you know someone who is currently deployed, be a good neighbor and check in with their family. There's a long list of ways you can support them, from offering to help out with repairs around the house to cooking meals or watching their kids. Anything can help take the load off a little — even just listening to them talk about their own challenges.
4. Join a local event
Many communities organize local events, fundraisers and other gatherings on and around the Day of the Deployed to help support our soldiers and their families. Search for one near you to participate in, or, better yet, ask some friends to go with you. These are great opportunities to spread awareness, show your support and give back to the community.
5. Connect with Soldier's Angels
Whether you're having difficulty finding organizations near you or you're interested in the work they're doing, consider connecting with or supporting Soldiers' Angels. Donations are always a welcome option, but with both in-person and virtual volunteering options, anyone is capable of lending a helping hand.
October 8, 2023, was the annual Ms. Veteran America event hosted in Orlando, Florida — a yearly competition meant to honor the service and sacrifice of our women veterans and support our brave sisters who are making the transition back into civilian life and employment.
Not only does the Ms. Veteran America movement encourage and uplift women veterans, but it's also a charity event. All of the proceeds go to Final Salute — a nonprofit organization providing housing for homeless female veterans and their children. With over half of all homeless women veterans being single mothers, this nonprofit organization and the work it does are crucial to supporting our country's military members and families that may otherwise have been left behind.
In total, Ms. Veteran America has helped:
Raise $760,000+ for the organization.
Provide 17,000+ days of transitional housing.
Secure financial assistance and resources for 7,339 people and counting through Savings Assessment and Financial Education (S.A.F.E.) programming.
Empower 1,764 people and counting through employment transition with the Next Uniform program.
The event's theme, "The Woman Beyond the Uniform," highlights the strength, resilience and courage of our nation's heroic military women. By providing a platform for women veterans to show off their talents and interests beyond their commitment to our country, the Ms. Veteran America event shines a spotlight on the strength, courage and sacrifice of our nation's military women.
This year's Ms. Veteran America title went to Victoria Taylor, a proud combat camera specialist who served active duty in the Marine Corps for four and a half years.
As the newly crowned Ms. Veteran America 2023, Taylor will continue to play an active role in spreading awareness and advocating for women veterans experiencing homelessness. Through education and empowerment, she'll help her fellow sisters in arms confidently transition from military to civilian life — mentally, emotionally and financially by helping them secure stable employment and housing.
Save the Date For Ms. Veteran America 2024
Did you miss out on this year's Ms. Veteran America event? Not to worry! The next annual competition will take place on October 13, 2024, with more location and ticket details to come.
If you or someone you know are interested in competing in next year's event, consider applying as soon as possible. Early registration will open up in January 2024, with general registration going from March 16 to May 31.
Are you part of an organization that's interested in sponsoring the next Ms. Veteran America? Don't hesitate to get in contact with the event organizers and become a partner.
While next year's contestants prepare for the competition, the work of providing safe, suitable and affordable housing to homeless women veterans doesn't stop. If you're looking for a way to support these heroes and their children, and you have the means, consider donating to Final Salute or getting involved with an event near you.
Do you plan on staying in your current job position until you retire? If you answered "yes," then congratulations! But, if like most people, you want more from your work life, then career coaching might be for you.
Contrary to what many believe, career coaching isn't just for those seeking a job — it can also help those trying to change careers, advance in their position or begin an entrepreneurial role.
Let's take a closer look at how these services work and how you can use them to secure your dream job.
What is a career coach and what do they do?
Before we begin, it's important to understand just what the role of a career coach entails. These mentors work one-on-one with people to help them hone their skills, find their purpose, work toward their career goals and unlock their full potential in their ideal career.
Career coaches are accredited to make sure they can respond to people's personalized, individual needs, providing everyone with a unique approach. Not only do they offer a wealth of knowledge to make yourself marketable, but they also provide perspective and motivation to help you keep looking for a better opportunity.
The benefits of working with a career coach
Whether you're just starting a career, you're dissatisfied with your current role or you want to accelerate your move to the next position, a career coach can offer invaluable services to improve your work life.
But the benefits don't stop at achieving a satisfying and fulfilling career; along the way, they'll also help you:
Recognize your value: Career coaches can help you identify the skills that bring personal fulfillment and make you valuable to employers.
Plan your career steps: They'll also work with you to map out the overall trajectory of your career, planning for wherever you want to be five, 10 or even 20 years from now.
Set and measure goals: To maintain momentum toward your desired career, your coach will help you establish specific milestones and check up on your progress.
Network with professionals: Career coaches often offer access to a vast network of skilled professionals, helping you connect with the right people in the right industry.
Prepare for job interviews: As you pick the perfect job postings to apply for, your coach will guide you through the process to help position you as the top candidate in any talent pool.
How does career coaching work?
When someone first meets with a career coach, the relationship often starts with a discovery period in which they get to know the client's current career situation and any potential future goals. Then, they set a schedule to meet on a regular basis in coaching sessions. During these appointments, they'll continue to discuss these topics, develop career-related skills and act on the plan they set in motion.
How to get the most out of a career coach
While the job of a career coach is to help guide you along a path toward your goals, that doesn't mean you won't have to put in the work. Getting ready for a coaching session involves preparing any documents (such as a resume or cover letter), but it also includes things like:
Keeping an open mind about new perspectives or opportunities.
Being honest and vulnerable about your career goals with your coach.
Completing and following up on any tasks outlined in the previous session.
Preparing any questions you have or thoughts on your career trajectory.
Over time, these sessions will help you identify areas to improve and keep you motivated to continuously move toward your desired career.
If you're looking for a career coach, go to the AFBA Career Center.
Responding to emergencies is some of the most vital work in society — and simultaneously some of the most demanding. It's only fitting that first responders go into action equipped with the latest and greatest in technology.
From more advanced sensors and tracking systems to reliable communications networks, there is a wide array of tech tools that can make emergency personnel more effective and safer on the job. Developing new gear, along with the techniques to use it effectively, is an effort taken up by a wide variety of organizations, companies and agencies.
By diving into the current state of first responder tech, as well as the ongoing process of testing out new solutions, you can gain a new appreciation for this equipment and the brave people who use it.
Spotlight on DHS First Responder Tech Development
The Department of Homeland Security (DHS) realizes the need for first responders to go into the field with only the best in advanced equipment. That's why the agency, through its Science & Technology Directorate (S&T), spearheads new research and development.
The first step in developing any tech tool is to find out what users need — what's the problem that a new piece of gear could solve? S&T consults with a panel of 120 current and retired first responders, called the First Responder Resource Group (FRRG), to figure out needs that are going unmet by existing equipment. The agency also listens to specific requests from teams dealing with extreme and unique circumstances, such as firefighters battling wildfires.
Some of the development projects targeting these currently observed needs include:
Enhanced globes for helicopter rescues: Performing aerial hoist rescues is remarkably hard on emergency workers' hands. This demands new glove materials and designs that can take the strain.
Lost Person Locator software: Searching for missing persons is most effective when there is a set of consistent protocols and data sets available. This new software tool aims to deliver those capabilities widely.
Routing software for vehicles: When commercial-grade navigation software isn't up to the task, first responders need a specialized tool set to get to emergencies in a timely manner. This new system accounts for weather, vehicle type, road conditions and more.
Smart chemical sensors: New wearable sensor technology can help first responders determine exactly what they're encountering in the air. The devices can give alarms if personnel reach exposure limits to dangerous substances.
New firefighter respiratory protectors: Firefighters battling wildfires sometimes spend hours in areas containing vapors, particles and carbon monoxide. A scarf-like respirator can protect them from these substances for up to 12 hours.
NIST Researches Communications Tech
DHS isn't the only agency putting research hours into new first responder tech projects. The National Institution of Standards and Technology recently conducted an extensive, over-five-year survey of communications needs by first responders.
The more than 7,000 people who shared their opinions stated that they need technology that is trustworthy, controllable and not frustrating to use. NIST explained that these values should direct the development and purchasing of tech, and gave six guidelines:
Improve current systems as a first resort before creating wholly new products.
Reduce unintended consequences of new tech adoption, such as distraction.
Avoid "one-size-fits-all" approaches because public safety is a varied field.
Don't develop tech for its own sake but rather to meet real, observed needs.
Lower costs of products and services to make tech scalable for wide adoption.
Focus on usability so first responders find it natural to get correct outcomes.
The steady march of tech development is always ongoing. Putting new offerings in the hands of first responders ensures that these breakthroughs are serving the public good.
When an enemy strike occurs, there is little time to prepare. The U.S. must remain prepared in case a strike happens to us or our allies. Many countries look to us for guidance and backup, which means it's our responsibility to keep a favorable posture when it comes to proper Armed Forces funding, training and advancement.
We'll explore how the U.S. is able to remain combat-ready.
Lying in Wait
The federal government's primary focus is to serve the people of America by protecting our safety and freedoms. There is an official policy highlighted for the Armed Forces called Military Operations Other Than War (MOOTW) for times when there isn't an active need for warfare, combat or threat of violence.
MOOTW is typically used in times of humanitarian aid, engineering, law enforcement, peacekeeping and disaster response. It's used to deter potential aggressors, protect U.S. interests and support the United Nations' (UN) objectives.
Armed Forces planners' prime objective during conflict is to resolve the situation and return to peaceful conditions. During peacetime, the nation can focus on basic objectives rather than defense and attack.
Training
Generally speaking, Armed Forces members who are not engaged in direct conflict spend their days training at either their home station or other locations around the world. Equipment maintenance and research is necessary during these "downtime" periods.
The Armed Forces must go through consistent times of upgrading including their facilities, drills, supplies, equipment and weapons. Success in warfare depends on preparation, so active duty servicemembers drill consistently, even after they understand their duties. This would include knowing where to be at certain times, what gear to grab and why they are there in the first place. There are times when there's no additional leadership during wartime, and soldiers should be ready.
Support
There are some instances where an Armed Forces regime is asked to support citizens in certain areas. This could include:
Cleaning up and repairing after natural disasters.
Assisting civil organizations like police and firefighters with heavy equipment.
Testing new vehicles, weapons and options.
Observing to prevent suspicious war activity.
Cleaning up old conflict areas for weapons and debris.
Acting as standby guard for internal fights, riots or revolts.
Transporting helpful goods for civilians, such as food and supplies, after times of crisis.
Blocking actions to prevent crises.
Family
When soldiers aren't actively on base and training, they're experiencing life just like everyone else. They're taking time to build their family, make memories and achieve personal goals one day at a time.
Being on base and in active deployment can take a lot of time and energy away from the other aspects of life. It's important to recover from what happened while on duty, while being present for the life still happening at home.
All in all, members of the Armed Forces live full lives during their career, and the aspects of their duties change along the way.
September — it's the start of fall, the beginning of football season … and also a great time to celebrate the U.S. Air Force. Why? Well, because this branch of the military marks its 76th anniversary this year on September 18. In honor of this date, here are 10 facts about the Air Force and the daring men and women who keep the skies secure.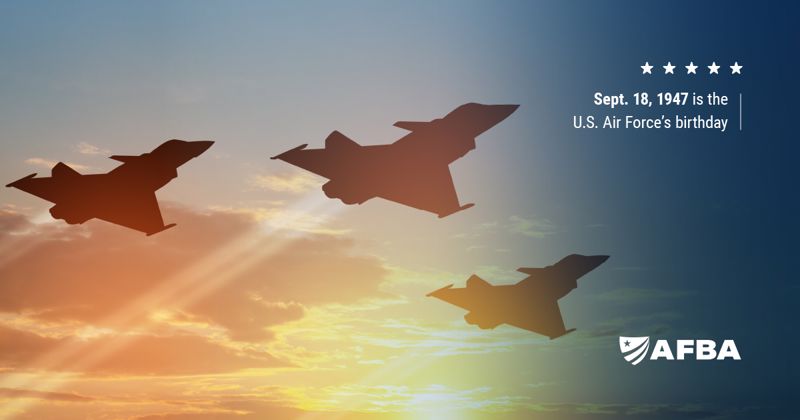 1. The Air Force Used to Be Part of the Army
The Air Force celebrated its 75th anniversary in 2022 — but that doesn't commemorate the day the first American aviators took to the sky. Rather, on that day in September 1947, the Air Force and Air Force Command were spun off from the Army, which had been in charge of airborne operations through both World Wars.
2. There Are 17 Air Force Bands
The Air Force Band is one of the premier military ensembles — but "one" is the wrong term. There are two main groups, joined by nine active duty bands, five in the National Guard and one deployed in Southwest Asia. These musicians are heard by six million people a year.
3. Air Force Planes Help Fight Wildfires
When wildfires recently struck California, the Air Force got the call to help with the firefighting effort. Specialized C-130 planes flew 156 missions to battle the blazes in just a single month.
4. NORAD Coordinates Air Defense — And Tracks Santa
The North American Aerospace Defense Command (NORAD) is an organization combining U.S. and Canadian air and space defense units. Among other things, it annually runs a popular site that lets kids bring up Saint Nick on the radar as he circles the globe.
5. Women Make Up Over One-Fifth of Air Force Members
The latest data shows that 21.4% of Air Force personnel are women. The service has trained female pilots since 1976, navigators since 1977 and fighter pilots since 1993. Among officers, this figure rises to 23.3% of personnel.
6. The Air Force Academy is the No. 2 Source of Astronauts
Can Air Force training get people ready to go to space? Historically, the answer has been yes. The Air Force Academy has produced 39 astronauts, making it second only to the Naval Academy.
7. "Sully" Had Air Force Training
Commercial Airline Pilot Chesley "Sully" Sullenberger became famous for successfully landing his damaged jet on the Hudson River and saving over 150 passengers' lives. What you may not know is that he's an Air Force Academy graduate from the class of 1973.
8. 17 Air Force Football Players Have Gone Pro
The Air Force Academy's football team, the Falcons, have sent 17 players into the pro ranks, with the most recent being Detroit Lions tight end Garrett Griffin.
9. The Air Force Has a Grateful Dead Connection
Psychedelic rock and the U.S. military don't seem like obvious bedfellows, but in addition to astronauts, aviators and football players, the Air Force produced a member of the Grateful Dead. Keyboardist Tom Constanten played with the Dead from 1968-1970 directly after a stint in the Air Force.
10. The Air Force Museum Has Over 350 Vehicles and Missiles
The Air Force maintains a comprehensive museum on the grounds of Wright-Patterson Air Force Base in Ohio. The facility is the oldest military aviation museum in the world, and also the biggest, spanning 19 acres. All that space is necessary to hold the hundreds of pieces of decommissioned hardware on display.
Now you have 10 facts to share about the Air Force as the branch celebrates its 76th year this September. From early flying aces to astronauts exploring the cosmos, Air Force personnel have worn many hats over the years, and their mission is still evolving today.