Social media is about more than sharing memes and catching up with friends and family — it's become an invaluable tool for job seekers and recruiters alike. Whether you're new to these platforms or you're a digital native who grew up with them, knowing how to effectively craft your profile can have significant impacts on your job searching journey.
But why is social media important to employers in the first place?
Why Is Social Media Important in a Job Search?
Each social media profile is a collection of posts, images and videos the individual shared to express themselves. For employers, this offers a quick and easy way to gain insight into who their prospective candidates are.
As a job seeker, your active presence on platforms like Instagram and Facebook, as well as more professional ones like LinkedIn, is your first impression with recruiters. In fact, a staggering 84% of organizations use social media to recruit new talent, according to Zippia. How exactly?
How Employers Use Social Media
You've likely heard of the term "social media screening" when it comes to the application process — but what does that really mean? While standards and procedures vary by employer, a social media screening typically involves hiring managers scanning through your social media profiles before making a hiring decision or even setting up an interview.
During this process, they're likely checking your accounts across the three main platforms: LinkedIn, Facebook and X. Any questionable posts that showcase extreme viewpoints, dangerous or obscene behavior or other unprofessional activities are likely going to raise some eyebrows at the very least, if not squander your chances at a position.
So how do you use social media to your advantage and prevent any potential misgivings?
Top 5 Tips To Secure a Job With Social Media
Here are 5 tips to help you leverage social media in your job search:
1. Keep Your Profile Clean and Professional
Instead of scrubbing your profile from the internet, try scrubbing it clean of any "offensive" content that could dissuade potential employers. In addition to deleting or hiding old posts, you should also consider what you share moving forward to ensure you're seen in a positive light.
2. Update Your Skills and Experience
As you go through your social media profiles, be sure to update your skills and experience. This is essential for professional networking platforms like LinkedIn, as they act as a digital resume or portfolio. Any time you gain a new certification or learn a new skill, be sure to include it in your bio or "About You" section.
3. Start Networking and Making Connections
One of the best ways to use social media in job searching is as it's intended: as a networking tool. Build as many connections as possible across different platforms, because you never know when or where the next opportunity could arise.
4. Research and Follow Potential Companies
Just like employers, you should also be using social media to find out more about the companies you apply to. Not only will engaging with their posts show interest, but reading their blogs and viewing their content can help you gain a better understanding of the company itself.
5. Send Personalized Messages
Finally, when you're ready to pull the trigger and apply to a position, don't be afraid to send a personalized message to the hiring manager or anyone else you may know on the hiring team. While you don't want to come across as pushy or overbearing, a well-written note can go a long way in keeping your name top-of-mind for employers.
A solid resume can be your golden ticket to the dream job you've always wanted, but many job seekers today aren't sure where to start with theirs — especially if they've been out of the market for some time. Fortunately, it's not too difficult to craft an effective resume that highlights your accomplishments, skills and experience. But before we dive into how you can do that, it's important to cover what you should and shouldn't include in your resume.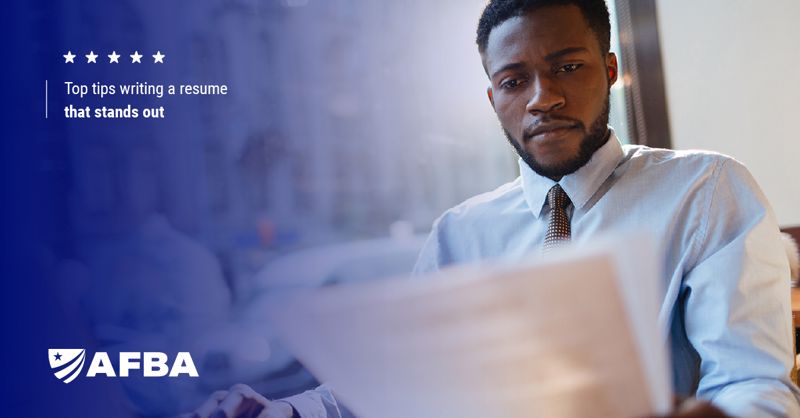 What should you include in your resume?
When you think of what to put down in your resume, you likely think of your work experience, skillsets and specific achievements in your career so far. While these are all important, you don't have to include everything.
To understand what should and shouldn't go in your resume, it's easier to highlight a few things that are better left out, such as:
Personal information, like an address or date of birth.
High school details (unless you're a recent graduate).
References (including the redundant phrase, "References available upon request").
Irrelevant or outdated work experience.
Not only do these take up valuable real estate, but some can even work against you, showing a lack of (or unrelated) experience.
Top 5 tips to land the job
Without further ado, here are our top five tips for creating the perfect resume:
1. Look for keywords in the posting
Whenever you see a job posting that intrigues you, be sure to study the language it uses carefully. Within each description are specific keywords that employers and, more often than not, hiring software use to recognize an ideal candidate. Using these keywords in your resume is essential to ensure you pass the initial applicant screening.
2. Review examples in the industry
It's also a good idea to look at other resume examples from the same industry and, ideally, the same position. While you might not always know someone in your network who got the job, there are plenty of samples online demonstrating what a high-quality resume looks like. As you review them, you'll start to notice a few trends; namely, the resumes that get results keep things short and simple, using concrete numbers to highlight measurable value.
3. Use strong, active language
Now it's time to turn attention to the language on your own resume. Try to use active voice and keep your wording as concise as possible. The hiring manager won't want to read a novel when the next applicant in the pile has neatly organized bullet points. In addition, you should also lean into your accomplishments and use strong words like "achieved" or "earned" whenever possible.
4. Proofread!
This step might seem obvious, but it's essential nonetheless. You should proofread your resume as many times as it takes to feel confident there are no errors. Then you should ask another industry professional, trusted friend or family member to look it over and provide feedback. It's okay for your resume to go through multiple rounds of revisions. The idea is to boil it down to your essential skills, experience and accomplishments so employers can easily see the value you'd add to their team at a glance.
5. Draft different versions
Finally, don't be afraid to draft multiple copies of your resume. While it's good to have a baseline resume that you can use as a template to jump off from, it's always best to tailor your resume to each unique job position to which you apply. This is especially useful for applying to different industries or positions within one. Just be sure not to mix them up as you're applying.
Discover more resume-building resources
If you're looking for more resources to help craft a strong resume, visit the AFBA career center and browse our packages.
Do you plan on staying in your current job position until you retire? If you answered "yes," then congratulations! But, if like most people, you want more from your work life, then career coaching might be for you.
Contrary to what many believe, career coaching isn't just for those seeking a job — it can also help those trying to change careers, advance in their position or begin an entrepreneurial role.
Let's take a closer look at how these services work and how you can use them to secure your dream job.
What is a career coach and what do they do?
Before we begin, it's important to understand just what the role of a career coach entails. These mentors work one-on-one with people to help them hone their skills, find their purpose, work toward their career goals and unlock their full potential in their ideal career.
Career coaches are accredited to make sure they can respond to people's personalized, individual needs, providing everyone with a unique approach. Not only do they offer a wealth of knowledge to make yourself marketable, but they also provide perspective and motivation to help you keep looking for a better opportunity.
The benefits of working with a career coach
Whether you're just starting a career, you're dissatisfied with your current role or you want to accelerate your move to the next position, a career coach can offer invaluable services to improve your work life.
But the benefits don't stop at achieving a satisfying and fulfilling career; along the way, they'll also help you:
Recognize your value: Career coaches can help you identify the skills that bring personal fulfillment and make you valuable to employers.
Plan your career steps: They'll also work with you to map out the overall trajectory of your career, planning for wherever you want to be five, 10 or even 20 years from now.
Set and measure goals: To maintain momentum toward your desired career, your coach will help you establish specific milestones and check up on your progress.
Network with professionals: Career coaches often offer access to a vast network of skilled professionals, helping you connect with the right people in the right industry.
Prepare for job interviews: As you pick the perfect job postings to apply for, your coach will guide you through the process to help position you as the top candidate in any talent pool.
How does career coaching work?
When someone first meets with a career coach, the relationship often starts with a discovery period in which they get to know the client's current career situation and any potential future goals. Then, they set a schedule to meet on a regular basis in coaching sessions. During these appointments, they'll continue to discuss these topics, develop career-related skills and act on the plan they set in motion.
How to get the most out of a career coach
While the job of a career coach is to help guide you along a path toward your goals, that doesn't mean you won't have to put in the work. Getting ready for a coaching session involves preparing any documents (such as a resume or cover letter), but it also includes things like:
Keeping an open mind about new perspectives or opportunities.
Being honest and vulnerable about your career goals with your coach.
Completing and following up on any tasks outlined in the previous session.
Preparing any questions you have or thoughts on your career trajectory.
Over time, these sessions will help you identify areas to improve and keep you motivated to continuously move toward your desired career.
If you're looking for a career coach, go to the AFBA Career Center.
There are few days in U.S. history more consequential or somber than September 11, 2001. Every year since the deadly attacks that took nearly 3,000 lives, Americans have paused on September 11 to remember those who died, and to dedicate themselves to serving their communities.
In December 2001, Congress designated September 11 as Patriot Day, and in 2009, as part of the Serve America Act, the day also became a National Day of Service and Remembrance. By attending a memorial service, sharing your personal memories and experiences or by giving back to your local community this Patriot Day, you can ensure that the indefatigable spirit of the victims lives on.
What Happens Every Patriot Day?
In keeping with its solemn tone, Patriot Day is a time of contemplation and service. In the official White House announcement proclaiming last year's Patriot Day, President Joe Biden described some of the ways the government would be commemorating the anniversary.
All flags flown by government branches, agencies and departments fly at half-staff on September 11. A moment of silence is observed at 8:46 a.m. eastern time, acknowledging the time when the first World Trade Center tower was struck.
There is also an annual observance ceremony carried out by the National Park Service at the Flight 93 National Memorial. This quiet location in southern Pennsylvania is the place where that flight crashed on September 11 when heroic passengers and crew prevented it from becoming part of the attacks.
The public service organization AmeriCorps also designates September 11 as one of its two annual National Days of Service, alongside Martin Luther King, Jr. Day. The group encourages individuals to pledge to serve their neighbors and offers web resources that connect people with opportunities to help out near them.
Beyond these nationwide and local commemorations, each person can go into their community and perform acts of service on their own to ensure they are showing a resolute, civic-minded spirit on this tragic anniversary. This is an opportunity to put good into the world as part of mourning and remembrance.
What Are Some Ways to Observe Patriot Day?
At first, it can be difficult to know how to mark a somber day like September 11. However, there are numerous ways to remember the tragedy and honor the sacrifices of those who died that day through giving back to your community.
Perhaps the most fundamental part of observing the National Day of Service and Remembrance is simply showing love and kindness to the people in your life, friends, family and strangers alike. This attitude is a good foundation for acts of service, and a way to show that you honor the sacrifices of those who gave their lives.
In a more concrete sense, you can also take part in volunteer projects. The National Park Service recommends getting out to serve, and runs its own events, some in conjunction with groups such as The Mission Continues, a nonprofit community impact group that helps veterans acclimate to lives at home following after they've served.
You can also share memories and reminiscences to ensure the sacrifices of those who perished on September 11, 2001, as well as the first responders who gave so much of themselves to provide assistance on that day, lives on. One of the legacies of September 11 is that everyday people can find heroism within themselves, and honoring that is part of Patriot Day.
We at AFBA hope you'll join us in honoring those who gave their lives September 11, 2001, and those who committed brave acts of service that day, on Patriot Day 2023 and beyond.
Is life insurance the most overlooked, misunderstood and underrated kind of insurance? It may just be, specifically because it's so hard to envision needing this kind of coverage. It's uncomfortable to consider needing life insurance, and if you're young and in great health, it can seem like such a remote prospect, you might simply ignore it.
But that kind of attitude, while understandable, leaves people without the coverage they need. Only 53% of men in the U.S. have life coverage, and even fewer women — just 46%. This is why the insurance sector has come together to declare September Life Insurance Awareness Month. It's the time of year to take some of the fear and mystery out of life insurance and see it for what it is: An important and affordable way to look out for your loved ones.
What Is Life Insurance and Why Do You Need It?
Simply put, a life insurance policy exists to ensure that if the holder passes away, their nearest and dearest will receive financial support. It's a way to help families get by in extremely hard circumstances — and considering just how vital this can be, the costs are low.
In some cases, it's clear why and how that money matters. If you're married, it will help your spouse. If you have children, it can go to their care. But what if you're single and childless? Life insurance still matters, and it was cases like this that Life Insurance Awareness Month was founded to address.
There are so many instances when extra funds could help the people and things you care about most. If you own your own company or have anyone financially dependent on you in any way, money may matter a great deal. You provide for the individuals in your life and look after them every day. It can be comforting to know you could do the same in your absence.
Costs simply add up. Family members will have to go grocery shopping every week. Any kind of business will need money to keep the doors open and the lights on. Life insurance helps these things keep going — it's a way to show you're watching out for all the pieces of your life, and it's typically not hard or overly expensive to get a policy.
How Do You Get Life Insurance — and Pick the Best Plan?
How much coverage do you need to provide for your loved ones? That depends, but you can narrow it down. For example, Life Happens, the same group responsible for Life Insurance Awareness Month, offers a calculator. Plug your information into this system and you'll figure out the best policy amount for your needs. Then it's time to choose a provider.
Finding a life insurance policy doesn't have to be complicated, but you should take the decision seriously. This might mean working with an insurance agent or broker. That could mean choosing an independent professional to compare companies' offerings or working directly with a provider's agent.
Every provider offers a slightly different selection of products, along with a unique experience for policyholders, and a broker could help you sort through the offerings. Policies may also be available through employers, but there are some complexities that come with certain professions.
This is a good time for a history lesson. In 1947, U.S. service members weren't able to find coverage that would pay a death benefit if they lost their lives in combat. This is the reason why AFBA was founded — to provide peace of mind to the people who were serving their country. That's what we're still doing today, offering benefits to active duty military members, veterans and first responders.
Cybersecurity is nothing to take lightly. The U.S. government was part of a global cybersecurity breach led by Russian-speaking hackers that stole employee data and much more in June of 2023. When a cybercriminal steals data information, they could become privy to someone's most sensitive details from their location and phone number to their Social Security number and passwords.
The Department of Defense and other government agencies process highly sensitive government records that if leaked, could jeopardize national security. This is why the Department of Defense and Homeland Security are working together to develop stronger methods of protection.
Here's an overview of the latest information.
Lifting the responsibility
In March of 2023, the Biden-Harris administration made an announcement that cybersecurity will be a primary focus to protect the interests of the American people and their government.
The first half of this promise aims to lift the responsibility of cybersecurity off of the shoulders of individuals, small businesses and local governments. These expectations are instead placed onto the plates of larger entities that have the means and dexterity to provide such a service.
The administration will leverage the use of public and private collaboration to defend mission-critical information, while increasing regulations on essential industries such as banking and healthcare.
A proactive approach
There is a large gap between a reactive approach to cybersecurity and a proactive approach. Reactive is where a business has some security in place, but is otherwise reacting to every threat that occurs as it's happening in the moment. A proactive approach, however, requires that an entity does everything in its power to prepare its infrastructure long before a threat ever happens — and then develop new methods of security when a breach does occur.
In the White House's address, the administration mentions realigning their focus on a long-term approach to cybersecurity for a more resilient future. This would help ensure that when a breach happens, the effects are minimal and hold no long-lasting damages.
Cybersecurity resilience means reducing technical vulnerabilities and ensuring that all mission-critical information is backed up and separated from the primary modules.
The address says it's focused primarily on ransomware. This occurs when a hacker is able to get into your system and hold some of your data "hostage" through walls of bugs and blockers until you're able to pay their ransom. NetApp notes that ransoms can range from $10,000 to millions, with the highest ever recorded being $70 million. Any business would be devastated by just one attack such as this — especially if the data being held is critical to their business.
The solution is ensuring that all data — especially that which your business is built on — is backed up in several separated spaces as often as possible.
A robust cyber workforce
All of this work is not possible without a capable team of trusted developers and information technology professionals. The U.S. plans to work together with its international allies to develop counter-threats and joint preparedness. Oftentimes, the cost of implementing such a robust system can get high, but together, these expenses are mitigated as much as possible.
In peacetime and in crisis, the government is working hard to protect and reinforce the nation's critical information.
Cardiopulmonary resuscitation (CPR) is a life-saving medical technique consisting of chest compressions and, at times, rescue breaths. It refers to a series of tasks meant to restore blood circulation and oxygenation during instances of cardiac arrest, such as those associated with a heart attack or near-drowning.
If you're not trained in CPR, you might want to seek out a class. Here, we'll describe what CPR is, provide a resource describing the steps, and explain how you can find a CPR course near you.
Who can perform CPR?
Anyone with sufficient physical strength can perform CPR, as it requires no tools. It does, however, require training, especially if you want to learn rescue breaths.
When cardiac arrest occurs, blood flow throughout the body stops, preventing oxygenation. Without rapid intervention, this can cause brain damage in minutes. When CPR is done successfully, it restores blood flow to the body long enough for emergency medical services to arrive and restore a normal heart rhythm.
This procedure can be performed for adults, children and infants, though it should not be done for newborns less than four weeks old.
How do you perform CPR?
The American Heart Association (AHA) provides a popular set of guidelines on how to perform CPR. The list of steps involved is likely lengthier than you realize.
After assessing the situation, you or someone nearby needs to call 911. If you're untrained, you will be given instructions. The procedure primarily involves doing hard and fast chest compressions at 100-120 per minute. An automated external defibrillator (AED) can come in handy in these situations and requires no training as the mechanism comes with instructions.
The key words when attempting chest compressions are "hard and fast." You might have seen CPR done on TV or in movies, where they lightly press on the chest repeatedly. They do this because using the proper amount of force required in real-life CPR could cause injury.
Persistence is often a factor, as you could be making chest compressions for a lengthy amount of time before blood flow is restored. That's why you'll need some physical strength and endurance.
Where can you learn CPR?
One of the top resources for finding classes that teach CPR is the AHA tool or find a class near you on the American Red Cross website. All you have to do is to enter your location. After you provide one, you'll be presented with a list of nearby places holding official classes.
You can use the provided filters to sort results based on what type of class you're looking for. For example, you could choose to see only Basic Life Support (BLS), Advanced Cardiovascular Life Support (ACLS), Pediatric Advanced Life Support (PALS) or other classes with specific focuses.
You can also sort by the times classes take place: morning, afternoon, evening and nighttime. Other filters include spoken languages and class format, which is either a classroom setting or a "blended learning" mix of online and in-person instruction.
Most people should start with BLS before attempting more advanced courses. Look over every option and choose a class that fits your skill level and needs.
CPR can save lives, and is worth learning
Few people know proper CPR techniques. But it's a skill you should have for a simple reason: If there's a medical emergency and you're the only person capable of performing the technique correctly, it can make the difference between life and death. At such times, you might be the one person present who can save their life.