George Washington is quoted as saying, "We need chaplains" while addressing the Continental Congress before the service was formally established on July 29th, 1775. That means U.S. Army chaplains have been around since before the Declaration of Independence was signed.
During the Revolutionary War, they acted as spiritual leaders to help inspire and motivate soldiers. Little has changed since then. The U.S. Army Chaplain Corps (DACH) still serves a critical role in the daily functions of the Army by providing religious and moral support.
Every year since its birthday, the anniversary of the DACH is celebrated. This July 29th, you can use the opportunity to acknowledge the exemplary work of the DACH in your own way.
Here, we'll discuss the DACH"s mission and how you can potentially become a chaplain.
What does the DACH do?
The primary purpose behind the DACH is to offer support to the U.S. Army. This is usually religious support for a wide range of faiths, but they also help those who do not subscribe to any particular religion. This can include counseling, church services or other moral support. They also:
Serve in correctional or medical facilities or combat hospitals.
Offer family or marriage counseling.
Can act as instructors in officer service schools.
Some chaplains choose to further their training and education to prepare them for higher-level work. This could mean taking on staffing responsibilities, handling personnel-related tasks, or being involved in financial and logistical duties.
The DACH never stops working. In peacetime or war, whether soldiers are deployed or at home, chaplains are always there to offer their services. They understand that servicemembers have a near-infinite variety of backgrounds, and they aim to help all who could benefit.
Army chaplains aren't restricted in what type of unit they serve. Intelligence, infantry, community ministries, hospitals — you will find chaplains in all these places.
Considered non-combat personnel, chaplains are supported by religious affairs specialists. In addition to organizing worship services and religious programs, these specialist troops have administrative duties and must act as an armed guard to ensure chaplains' safety in combat situations.
How do you become an Army chaplain?
Chaplains serve a vital purpose in their units, meaning they must undergo extensive education and training programs to prepare themselves for such great responsibilities. They're treated as Army officers and receive all the privileges other officers have.
Unlike some other Army positions, Army chaplains must have formal higher education: at least a bachelor's degree. In some cases, graduating college seniors can enlist.
An endorsement from the applicant's faith group is necessary, as is being enrolled full-time in an accredited graduate program that can qualify them for ordination.
Another challenge is the Chaplain Candidate Program (CCP). Ministry students may begin this training while they're still in school.
Chaplains are exempt from Basic Combat Training (BCT) but still undergo physical tests to build strength and endurance. Chaplains must pass the Chaplain Basic Officer Leader Course (CHBOLC): In addition to requiring an adequate level of fitness, this course trains chaplains academically and spiritually.
Celebrate the anniversary of the Chaplain Corps this July 29
The DACH has had nearly 250 anniversary celebrations during its lifetime, and they've remained a core part of many Army units. On July 29th, show your appreciation for the DACH and its role in providing religious support to every soldier.
When summer hits, the kids are off, your spouse's PTO is saved up and the promise of a fun adventure is on the horizon. A trip to Washington DC could serve to be a rewarding experience for the whole family. Not only do you get to feel the heartbeat of America, but you can also dive into its deep history.
Before booking your trip, here's what you need to know and some spots to put on your itinerary.
Planning your trip
DC has a lot to offer the common traveler. From the White House and Capitol to the presidential and military memorials. With so many attractions and potentially not a lot of time to see them, it's important to narrow your choices and focus on a specific aspect of the city. Let's get down to how to plan your trip.
AFBA travel benefits
If you're an AFBA member, you have certain travel benefits you should take advantage of before booking anything.
Car rental discounts: While DC is notoriously easy to walk through and shared rides are abundant, you may consider booking a car rental. This can be helpful if you want to stay somewhere outside the city and visit surrounding sites, want to make DC more accessible on your own time or have specific travel needs like wheelchair access.
Armed Forces vacation club: From hotels to exclusive discounts, any member of AFBA can benefit from starting their itinerary with this one-stop-shop website.
Wholesale hotel rates: Receive wholesale rates at over 600,000 hotels around the country — that's 60% of any hotel on the list!
All of these advantages can put your trip on the right foot.
What to bring and not bring
Traveling comes with it a host of decisions, but here's what to bring and leave behind on your trip.
Summer in DC is known for its humidity and average temperatures falling between the high 80s and low 90s. These two weather conditions combined make for summer storms as well. So, pack your raincoat, a good pair of walking shoes and your favorite breezy summer clothes to make this trip the best one yet.
DC is also a fairly large city, and it could get confusing if you're not familiar with the area. Map out where each site and attraction is beforehand so you're not wasting your time zig-zagging across town. If you book a tour, be sure to mark where the guide will meet you.
The top museums and locations to visit
Along with the main attractions like the National Mall and the Lincoln Memorial, here are the best places to see if you're a military history enthusiast:
There is a lot to do and see when you visit Washington DC. Once you have your itinerary planned out, enjoy the music, food, art and culture of the area.
Father's Day is a time to celebrate dads everywhere. But serving dads — whether military dads or first responder dads — deserve special appreciation for the uncommon challenges they face while serving, whether directly or indirectly.
The different types of serving dads
All serving dads are included in Father's Day, but what does that term include?
Military dad and first responder dad are terms that can apply to many people. It can be a father serving in the armed forces or a first responder unit to a mother, son or daughter at home. It includes a dad supporting a serving mom. Just as the term "military family" refers to any proud kin who's there for a related servicemember, a military dad is any type of serving dad.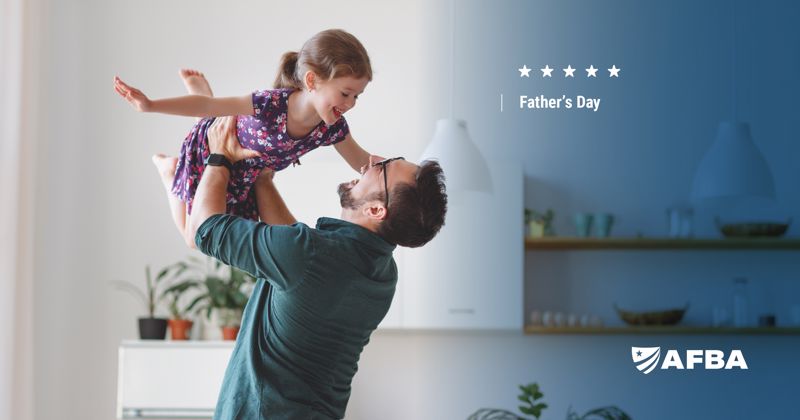 Unique challenges serving dads face
Depending on the role of the military or first responder dad in their family, each faces unique challenges to be recognized and appreciated on Father's Day.
Serving dads can be called to duty at any time, leaving their families for as long as their service is needed. Military dads are often required to relocate frequently, perhaps staying in one location for no more than a few months before being redeployed elsewhere. This forces them to leave shallow roots in their former place of residence to grow new ones elsewhere, which can cause stress to everyone in the family.
Being in the armed forces or a first responder unit inherently involves a degree of danger. For the serving dad, they must come to terms with the worry they may impose on those at home. The serving dad works all hours, day or night, whenever he's called to action, which can potentially make communication with family members at home difficult.
The dad who supports his serving family member is on the other end of this. Perhaps they worry for a mother, son or daughter who serves. Maybe they, too, are facing the difficulties of keeping in touch when their servicemember could potentially be halfway around the world, or a first responder works 12-hour shifts, from evening to morning the next day.
Serving dads sacrifice uncommonly to serve their country and community. It is important to acknowledge this on Father's Day, whether you're a friend or family member of one.
Ideas for celebrating serving dads
What a serving dad may appreciate most differs from one to the next, but almost all would cherish a special gesture or two on Father's Day. Here are a couple of ideas to get you started.
Write them a letter by hand
The difference between a phone call and a letter is permanence. Serving dads would almost certainly appreciate a phone call, but having a genuine letter carries a special significance. When times are toughest, the serving dad can take the time to stop, feel the paper in their hands and read the letter as many times as they wish.
Include a printed photo as an added bonus that they'll be sure to appreciate.
Pay them a visit
If possible, go to where the serving dad is and spend some time with them.
Being a good listener can come in handy here. A serving dad to a military or first responder family member may have fewer opportunities than they'd prefer to talk about their challenges.
If you think they'd appreciate it, take them out to a favorite place of theirs, whether it's a park, restaurant or some other special location.
However you show your appreciation on Father's Day, do it with sincerity
Feel free to use one of these ideas or think of something special yourself. Few are the serving dads who wouldn't feel their spirits lifted at a Father's Day gift — especially those that carry a sincere gesture from the heart.
There are few jobs as selfless or necessary as the military caregiver. These individuals — who can be friends, distant relatives, family members, or anyone else who wants to help — assist disabled members of the military with activities they can no longer perform on their own. This can include showering, eating or dressing. A military caregiver might also be called a veteran caregiver if the individual receiving care is a veteran but not an active servicemember.
Despite the name, not all military caregivers identify as caregivers. A military caregiver isn't necessarily a job title (though for some, it can be), but rather a catch-all term for someone who helps a servicemember or veteran with daily activities.
While they're necessary to the service member's life, many military caregivers don't get the resources they need to manage. Being a military caregiver is often extremely stressful, and many give up basic necessities in their lives to serve their member(s) of the military. That's why, in addition to talking about how valuable military caregivers are, we'll also be discussing the resources available to them — and how you can help.
How else do military caregivers help?
A military caregiver may not assist with physical activities at all, but instead (or even in addition to this) serve a servicemember by:
Offering emotional support.
Taking care of legal or financial responsibilities.
Managing their schedule and transportation to and from appointments.
Active duty members of the armed forces and veterans alike often don't get the help they need to function in their daily lives. A military caregiver is someone who makes that possible.
The challenges military caregivers face (and the help they can get)
Serving indirectly as a military caregiver isn't easy. It can be incredibly stressful and eventually lead to burnout, which in turn can lead to serious psychiatric symptoms such as anxiety and depression.
Luckily, there are some programs available that aim to assist those who sacrifice more than just their own time and energy to care for active service members and veterans (many give up their education, health and finances as well). One is the Department of Defense, which has been reaching out to military caregivers since 2013 to provide support. They offer resources such as networking opportunities with other caregivers to help each other cope emotionally, physically and financially. For many military caregivers, opportunities like these are invaluable for their own well-being.
Other nonprofit programs such as the Wounded Warrior Project exist to help wounded members of the military return to being active participants in their community, among many other services the organization offers. Military caregivers can also take advantage of the extra help.
What can you do to help?
If you want to become involved in helping military caregivers care for both their service member(s) and themselves, reach out to one and offer whatever assistance you can. They will surely appreciate it.
Alternatively, you can donate to a cause such as the Wounded Warrior Project that directly benefits military caregivers. You can also call up your nearest army station or veterans affairs office and ask if they know of any local opportunities to get involved.
Become a positive force for military caregivers so they can continue to serve
Military caregivers give their bodies and souls to caring for an active duty service member or veteran. Just as the military community constantly needs help, so are the people who are crucial in improving their quality of life.
This May, recognize and honor those who indirectly serve in this way.
If you're a servicemember, veteran, dependent or any other eligible type of passenger, you may qualify for free accommodations on Space-A flights if a vacancy is available.
What is a Space-A flight?
Space-A stands for space-available flight and is also referred to as military hopping. If a Department of Defense (DoD) aircraft has vacancies when traveling between air bases, eligible persons may fill these seats at no charge, according to the John S. McCain National Defense Authorization Act. The purpose of Space-A is to give certain types of people the freedom to travel on flights that have vacancies.
Space-A flights can be on commercial airplanes, but they might also be on fuel tankers or cargo aircraft.
The different categories of travelers
Depending on who you are and the reason for your travel, you're placed in one of six categories. When Space-A considers who gets priority when someone requests to fill a vacancy, the lower categories get picked first. Here are the different categories and what they might include:
Category 1: Emergency leave travel
The emphasis here is on the word "emergency." People who might qualify for this category include DoD civilian employees who are stationed overseas or full-time American Red Cross employees serving in a military capacity.
Category 2: Accompanied environmental and morale leave (EML)
This might include DoD Dependent School (DoDDS) teachers on vacation or sponsors traveling for EML purposes.
Category 3: Ordinary leave, house hunting TDY
Those on ordinary leave or military members who are house hunting (following PCS orders) generally qualify for this rank.
Category 4: Unaccompanied dependents on EML
Family members on EML are in this tier. This also encompasses DoDDS teachers and their family members.
Category 5: Permissive TDY, students, dependents, post-deployment/mobilization respite absence
If their sponsor is stationed overseas or in Alaska or Hawaii, students fall into this group.
Category 6: Retirees, dependents, reservists and disabled veterans
This category would apply to these types of flyers on vacation, for example.
How to sign up for Space-A flights
Signing up for a Space-A flight is very different from booking a seat on a commercial aircraft. You won't be using traditional airports or booking accommodation at all; instead, you'll communicate with an Air Mobility Command (AMC) Passenger Terminal to reserve a spot.
These are instructions to keep in mind, according to AMC. More information can be found on their website.
Ensure your eligibility. There are six categories of travel that determine your eligibility for Space-A, with lower categories getting higher priority. This includes emergency leave, unfunded travel, and accompanied or unaccompanied environmental and morale leave (EML). Which category you fall into depends on the reason behind your travel and your duty status.
Check which locations are available. Review your closest AMC Passenger Terminal through their social media page or website.
Make sure your documents are in order. Look at which travel documents you need to prepare before your flight. This includes your passport (with visas, if applicable).
Register at an AMC Passenger Terminal.
Look at flight schedules. There is a 72-hour flight schedule on the American Forces Public Information Management System (AFPIMS) web page.
Check-in at the terminal counter. Familiarize yourself with any newly updated flight information and declare that you are present. If everything is in order, the terminal will give you a Space-A call when they're ready for you to board.
Roam the skies for free with Space-A flights
While not everyone is eligible to ride on a Space-A flight under all circumstances, as long as you meet the basic requirements, you can take advantage of this perk. For more information, contact your nearest AMC passenger terminal.
April is Military Child Month, and during this period there's a particularly special day for children of military families. Military Brats Day, held on April 30th every year, offers a unique opportunity to recognize these "military brats" and bring attention to their uncommon experiences and challenges.
What is Military Brats Day, and where did it come from? Let's dive in to explore this holiday.
The history of Military Brats Day
Military Brats Day has its origins in 2016 when the nonprofit organization Military Brats, Inc. made April 30 an unofficial holiday to celebrate kids from families in the armed forces. These "military brats" help support their parental servicemembers as proud sons and daughters — so in a very real way, they indirectly serve.
To some, the term "brat" might sound negative, but there's a good reason why "military brats" are referred to that way. "BRAT" is an acronym originally coined in 1921 that stands for British Regiment Attached Traveler — family members who travel with service personnel. This became a popular way to refer to the kids of military families.
Military Brats, Inc. is currently lobbying Congress in an effort to make Military Brats Day an officially-recognized national holiday.
Military Brats, Inc.
Military Brats, Inc. has an explicit mission "to preserve the culture and heritage of those who grew up military." Their goal is to bring assistance to military families through donation-led programs, wherever they may be needed.
Operation Footlocker is a program the organization is closely involved in along with the Museum of the American Military Family. Not to be confused with the educational program of the same name at the National World War II Museum in New Orleans, LA, this project aims to bring together military brats across the country at special events. The official Operation Footlocker home page defines it as "an occasion for brats to come together and swap stories, celebrate, and in various ways pay tribute to our roots."
What makes military brats unique?
Military brats typically share certain characteristics that make them (and their upbringing) unique. Families in the armed forces often need to relocate frequently, and this includes the children of the parental servicemember(s). These young people follow their parents wherever they go, and this presents them with some uncommon challenges that shape their character for life. A military brat changes schools an average of six times in life, according to National Today.
This means military brats often have innate difficulties making lasting friendships with peers and don't always have a place to call their hometown — but it also makes them closer to their families. These children have strong ties to the constants in their lives, not the least of which are their parents and siblings.
Parents who serve in the armed forces often have special qualities that they either inherently possess or learn in the military, such as discipline, honor and responsibility. These values are commonly taught to their offspring, giving another special value to military brats.
It's not uncommon for these children to live at military bases with their parental servicemember, and this means they have access to the same perks. For example, they can spend time in the libraries at these locations or other shared recreational facilities. They can participate in any morale, welfare and recreational (MWR) activities as well.
Find a way to celebrate and honor military brats on this Military Brats Day
There's no better time to honor the children of military families than Military Brats Day. Whether you're a parental servicemember or a military brat yourself — or simply want to demonstrate your appreciation for military brats — use this April 30th to show it.
Military spouse unemployment remains high because of frequent relocation. This places undue financial hardship on military families who rely on dual incomes. Thankfully, the issue has been steadily getting better, in no small part, because of the Military Spouse Employment Partnership (MSEP) program.
An introduction to the MSEP
The MSEP was founded in 2011 and has helped over 250,000 military spouses find employment in a wide range of industries. From October 2021 to October 2022, MSEP partners added an additional 40,000 spouses to that list, which is a record number for the program.
In late 2022, the Defense Department expanded its MSEP program to include an additional 70 government organizations, private sector companies and nonprofits. With the new additions, the total number of organizations participating in ensuring military spouse employment has reached over 600.
MSEP Engage 2022
Virginia hosted the three-day MSEP Engage 2022 event in late October 2022. Gilbert R. Cisneros Jr., the undersecretary of defense for personnel and readiness, inducted the 70 new government organizations at the ceremony. He also spoke of the advances of the MSEP program. The third day of the event was notable for being the first time MSEP partners directly met with military spouses who were seeking employment.
Why military spouse employment is vital
Like many civilian families, military families often require incomes from both spouses to make ends meet. Unemployment in the general population has been getting far better in the past few years, with the current rate from April to July 2022 at 3.4%, according to the Bureau of Labor Statistics (BLS).
However, the rate of unemployment for military spouses is sitting at roughly 21%, making it a worse problem for military families. This is partially because military families tend to move often, which hinders their ability to keep a job for long periods. Military spouses are often educated, career-oriented individuals. Constant relocation brings with it a host of problems, not just in their financial lives, but also in their careers.
Military spouse unemployment is a known issue among many families in the armed forces, and it's hurting the number of new enrollments in the military. Because of this and the associated financial burdens, these families have become less likely to recommend military service to their children, according to Mike Haynie, the executive director of the Institute for Veterans and Military Families at Syracuse University.
Hope for military spouse employment
Military spouse unemployment remains a serious issue for both the families themselves and the health of the armed forces as a whole. Satisfaction with the military is vital if service members are to stay on and encourage others, including their children, to join.
A sign of hope for this ongoing issue is in historical statistics: military spouse unemployment was at 30% in 1985 and has dropped considerably with the introduction of new programs and partnerships among the armed forces and private companies. The trend is slowly but surely moving toward more steady employment opportunities for military spouses.
Military spouses should know that they can be as eligible for unemployment benefits as anyone else. While not a complete or permanent solution, this can be a viable option to lessen any financial hardship a military family may be experiencing.
Unemployment is dropping among military spouses due to the MSEP program
New focus on the MSEP and other programs designed to encourage military spouse employment should offer new opportunities for military families so they can feel satisfied with steady employment and the easing of financial hardship.
Women are the fastest-growing group in the veteran population, according to a report by the U.S. Department of Veterans Affairs. In 2000, the share of veterans who were women was 4%. By 2040, it's projected to be 18%.
There are several factors contributing to the rise in women veterans, notably a shift in attitude toward women in the military. But women have found ways to serve even when they're told they can't. Here, we'll talk about the developing trend of women joining the armed forces and touch on their accomplished history.
Increasing opportunities for women in the military
One of the biggest drivers of this increase is a more welcoming environment for women in the military. This was touched on in a previous blog post about Women's History Month and Lieutenant Colonel Kathy La Sauce, who was one of the first women to serve in the Air Force in an active role. Before then, women had few opportunities in the armed forces, particularly in positions of power.
Times have changed, however. Today, women can serve in any position, including in leadership and combat roles.
That's not to say women don't have a long history of serving in some form or fashion. While it's only been in recent decades that women have begun enlisting in larger numbers and reaching new heights, the origins of women assisting the U.S. armed forces go as far back as the Revolutionary War.
Women have served in the military since the Revolutionary War
For some exceptional people, feelings of patriotism overwhelm them so much they're willing to overcome any obstacle — including being barred from officially serving in the armed forces. Such was the case with women who contributed during the Revolutionary War.
When colonial militias fought for Washington in the Continental Army, women — mothers, wives and daughters alike — insisted on coming to do their part. They did everything they could to help, including foraging for food, performing first aid and keeping the cannons functional.
Margaret Corbin was especially notable for the lengths she was willing to go. In addition to performing the aforementioned duties, Corbin disguised herself as a man so she could fight in a combat role alongside her husband, John. During the Battle of Fort Washington, she assisted John in loading the cannon. When he was killed by enemy fire, Margaret held her ground and continued to load and fire the cannon. When she was severely wounded by the British and permanently lost the use of her left arm, Washington's forces granted her a military pension. She was the first woman to receive one.
The women serving today
The women who serve today are different from before. Many women veterans are part of an ethnic minority and/or unmarried, and they're far more likely to serve as officers, according to Pew Research. They also serve in all branches of the military, though the Army is the most popular, followed by the Air Force.
As more women join the military, there will be a larger share of female veterans
Even though the armed forces are predominantly men, the percentage of women in the armed forces is increasing — and this trend is projected to continue. Since the inception of the U.S. military, women have been demonstrating that they're just as capable as their male counterparts. The effect is that more women are inspired to serve. If history is any indication — and if patriotic women like Margaret Corbin have anything to say about it — they will continue to excel and embolden others to do the same.
Every military family deserves superior health care tailored to their specific needs. There is a wealth of support programs for service members to seek out for their families. The Exceptional Family Members Program, designed for military families, includes support for dependents with special educational and medical needs.
What is the EFMP?
The EFMP is a resource offered to active duty service members who have spouses, children or adult dependents with special needs at home. The Department of Defense (DoD) provides this service.
There are three core components to EFMP:
Enrolling a family member with special needs.
Educating the military family on which projected duty station offers services for your family needs.
Assisting the military family in accessing those programs and services.
But what is a special need?
What are some examples of a special need?
Special needs include, but are not limited to:
Multiple sclerosis.
Asthma.
Diabetes.
Attention deficit disorder.
Chronic conditions — including behavioral health conditions — that are treated by a medical specialist generally constitute a special need.
Why should you use the EFMP?
Active Duty Service members with special needs dependents face unique challenges in caring for their loved ones. Those challenges can become compounded when relocating. With the EFMP, the armed forces hope to ease our service member's burden by offering support to their families so they can receive the care they deserve.
Are EFMP services available everywhere?
EFMP resources vary by location and may not be available in overseas or remote stations. This is why it's vital to contact the nearest EFMP support office first to make sure you know what services are offered.
All military families can take advantage of Family Member Travel Screening (FMTS). Wherever you're deployed, your family will have the resources they require, with careful consideration as to what your dependents' needs are and what would be available to them.
The EFMP is not limited by which branch of the military you're serving in; all branches offer the program.
How do you enroll in the EFMP?
Enrollment in the EFMP is mandatory for all active duty service members, and there are different ways to enroll if you're not on active duty. Methods of enrolling and their applications are available in this quick guide.
The FMTS process includes a medical and educational screening for you and your family. This helps the support office identify what specific needs your family has. If those needs include anything that could apply to the EFMP, you should enroll in the program.
If you're in the National Guard or Reserves, you might also be eligible for the EFMP, though you'll need to contact your particular branch for instructions regarding enrollment in each.
What does "family support" include in the EFMP?
Family support includes, though is not limited to:
Non-clinical case management, which includes Individualized service plans.
Information on local schools and early intervention.
Outreach and education.
Support for transferring EVMP benefits from one location to another.
There's no reason not to use the EFMP if you qualify
If you're a military family that includes someone with special medical or educational needs, there's no reason not to take advantage of the EFMP. The program gives service members peace of mind when deployed for active duty and their families the resources they can use to help meet those special needs.
You can access the EFMP family support by calling your local Military and Family Support Center or Military OneSource at 800-342-9647. Ask them for a referral to a special needs consultant.
While anyone can experience Post Traumatic Stress Disorder (PTSD) at some point during their lifetimes, it's highly prevalent among veterans, first responders and active duty service members. Estimates of the rates of PTSD vary by era, but veterans who served during Operations Iraqi Freedom and Enduring Freedom have illness rates of about 11-20%, according to the U.S. Department of Veterans Affairs.
It's not just combat that causes PTSD among veterans: 23% of women who use VA health care report having been sexually assaulted during their service, further increasing rates of PTSD among veterans.
One type of therapy, in particular, stands out as a unique and effective form of treatment for PTSD: music therapy.
What is PTSD, and why does it matter?
PTSD, once known as shell shock to describe similar symptoms among combat veterans, can be an extremely debilitating condition that can occur after a traumatic event. The disorder is a complicated psychiatric illness. Some symptoms of PTSD include, according to the Anxiety and Depression Association of America (ADAA):
Intrusive thoughts or dreams about the traumatic experience that happen involuntarily and cause distress. This can include episodes of feeling like the traumatic incident is recurring and acting out the event (sometimes called "flashbacks").
Intense psychological distress and usually avoidance of triggers that remind one of the episode.
An inability to remember details about the incident.
Increased arousal and reactivity.
Feelings of detachment or estrangement from other people.
Persistent fear, horror, anger, guilt, or shame.
Left untreated, these symptoms can worsen over time. That's why it's vital for sufferers of PTSD to receive intervention from a qualified professional.
Music therapy and PTSD
One form of complementary treatment to treat PTSD and other psychiatric illnesses, is music therapy. Music therapy is the use of music interventions to accomplish goals, e.g., to treat symptoms of PTSD. It can involve songwriting, or playing or listening to music.
Using music therapy to ease PTSD symptoms goes as far back as 1945 with the military's Technical Bulletin 187, which observed how music affected the reconditioning of service members in Army hospitals.
The U.S. War Department discovered that music positively affected soldiers' PTSD rehabilitation programs. This effect was demonstrated during physical reconditioning, occupational therapy, education, and recreation. The military followed up on this after the study was completed, attempting to further explore the possibilities of using music during therapy for recovering soldiers.
Various organizations have developed applications as a result of these studies to include programs ranging from active duty airmen improving their stress management and coping skills with music to using songwriting to treat PTSD symptoms.
Why use music therapy when traditional cognitive behavioral treatment exists?
Music therapy can be less intimidating than cognitive behavioral therapy (CBT) because of one factor: stigma. Despite the ongoing efforts by mental health professionals to encourage those with psychiatric symptoms to seek counseling and psychiatric treatment, there is still a strong aversion toward seeking mental health services. According to a recent study by the World Health Organization, between 30-80% of people with psychiatric illnesses do not seek treatment.
Many see music therapy as less intimidating or stigmatizing than psychotherapy, and thus is more broadly accepted.
Music therapy is a promising treatment for PTSD among service members
Since its initial success during World War II to treat symptoms of PTSD and promote recovery, associations such as the American Music Therapy Association (AMTA) have helped develop its use to treat psychiatric illnesses such as PTSD.
There's a long way to go until any PTSD treatment is perfected and universally helpful for sufferers of its symptoms, but music therapy is helping lead the way as a promising source of hope.